Our SEO Services in Fish Hoek
Do you run a local business that would like to attract more customers from Fish Hoek and its surrounding areas to your products or services? Fish Hoek SEO is focused on putting your company in front of 'hungry' customers that are in desperate need of the solutions that you have to offer.
We have extensive experience in Search Engine Optimization, Web Design, Reputation Marketing and Customer Conversions. Our SEO services extend far beyond the ability to get your business in the top of the Google search results. We can help you to dominate the first page of Google for your local Fish Hoek offering by ranking your videos, social media and even directory listings on the first page of Google too.
Sadly, there are many so-called SEO companies out there that have not kept up with the ever-changing algorithms of Google that still continue to implement outdated optimization strategies. As a result, they do nothing more than hurt the companies they attempt to optimize in Google. Our company is part of a worldwide network of SEO agencies that have thousands of test websites that are constantly scrutinized to ensure that we can anticipate any changes Google makes. This gives us the ability to quickly adapt our strategies and ensure ongoing rankings. You can rest assured that we know exactly what we need to do to get results.
The Process:
Web Site Optimization
We will begin by analyzing your current website to ensure that it is healthy and not currently penalized or the 'victim' of poor search engine optimization previously carried out. We will also check your current onsite optimization and make the changes necessary to form a good foundation for our 'off-site' strategy. At the end of this you will have sound website as pertains to onsite optimization.
In the event that you don't have a company website, we will build you a well optimized business website.
Once your website is optimized, we will begin to roll out our offsite SEO strategy. While the process is complex, the goal is simple. We create relevance, authority and trust for the terms that you want your company to rank for. We continue to do this until you outdo your competitors in these areas, effectively forcing Google to give more credibility to your site than that of your competitors. Once you are ranking, we don't simply stop. We carry on with this process to ensure that your competitors never rank above you again.
Domination: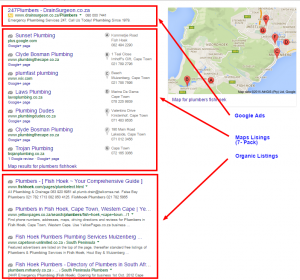 Having a website that ranks on the first page of Google is great, but there are 10 spots on the first page of Google. This means that there are another 9 spots that your competitors can occupy to get some of those targeted leads to their website. Imagine if you could dominate the first page with multiple properties ranking here. For every property you have ranking, you reduce the chance of losing leads to your competitors.
Our Domination SEO services does exactly that.
Firstly, we create and verify a Google local business listing for your site and optimize this listing. We then set up and optimize social accounts for your business. We also create multiple citations in various business directories.
Once we have this in place we implement offsite SEO strategies similar to that which we do for your company website. Over time, more and more of the properties that we focus on will begin to rank along with your website on the first page of Google. Where relevant, you will also rank in the 7-pack local maps listings.
Depending on the package that you choose from us, we can pretty much blanket the first page of Google with properties like YouTube, Twitter, Facebook, YelloSA, etc.
Ready To Dominate?
If you have decided that it is time to take action with our Fish Hoek SEO services to get your company to the top of Google or even to dominate, then simply contact us and we can discuss the way forward in more detail.
If you like what you read, but need more clarity, feel free to contact us for a casual discussion to answer your questions and see if our services are the right fit for your company.
---
Search Engine Optimization Basics
Take a look at this video to get a basic understanding of SEO.